Healing
AND JESUS WEPT
31 July, 2017
---
One morning, during my time of prayer and meditation, the Holy Spirit dropped this phrase in my heart … "AND JESUS WEPT".
For the Holy Spirit to drop this phrase strong in my heart meant there was something important that He would want to reveal to me and suddenly an account flashed in my mind when Jesus wept and it was when He wept for the death of His best friend Lazarus. (Please read this whole account in John 11:1-45)
How many of us can relate to Martha and Mary running to Jesus asking for help or for a miracle to what is seemingly a dead situation in our life. A dead situation would mean a bad report from the doctor, a bankruptcy, a dying marriage, a broken family, or any situation with no hope.
Martha and Mary waited and waited for Jesus to come and heal Lazarus but in the waiting, that dreaded day came and Lazarus died. The sisters were heartbroken and could not understand why Jesus had allowed this thing to happen … to Lazarus, His best friend, whom He dearly loved (John 11:5,35-36).
Some of us have waited for our healings and breakthroughs for months, others for years and years and yet all we seem to face is death to our hopes.
Like Martha and Mary, our hearts cry out, "Lord, You love me dearly, You care for me, You died for me, You even called me "My Beloved" – so why allow death to my situation? I don't get Your point, Jesus?" Have you ever cried this out to the Lord? I have – a couple of times!
"Jesus is the same yesterday, today, and forever" (Hebrews 13:8). His point today, what He had spoken to Mary yesterday is found in John 11:4 (NIV) "This sickness (any dead situation) will not end in death. No, it is for God's glory so that God's Son may be glorified through it."
It's time to look at our dead situations from God's prospective. His point in John 11:4 is … He does not look at your dead situation as dead, hopeless. He will turn the situation around so the world will see His goodness, power, grace and faithfulness move through you.
Jesus is very much aware of the very details of our life and He continues to speak the same today: "Your brother (situation) shall rise again" (John 11:23).
"I am the Resurrection and the Life, He who believes in Me though he may die, he shall live." Here Jesus is saying, we will outlive "death"! Because He is Life, the source of Life.
What "death" have you wept for? Weeping about? Jesus has wept for all your weepings! Arise! Through His finished work, He has turned all your weepings into joy and dancing! Believe!
The synonyms for wept is: sweat, ooze, bleed. Let me bring you to another scene where Jesus wept. At the Mount of Olives at the Garden of Gethsemane, Jesus in "such agony in spirit that His sweat fell to the ground like great drops of blood" (Luke 22:44 NLT).
Jesus WEPT with His blood as He submitted in prayer His destiny to the Father. JESUS WEPT FOR OUR DESTINY! And finally at the cross, His blood oozed out from all parts of His body for our salvation and abundance overflowing for our life.
Fear not to weep… when you weep, Jesus weeps with you. Together, you weep your way to freedom and victory.
WHEN JESUS WEPT at the cross, He WEPT for our freedom! He WEPT OUT OF EXTREME LOVE for us! (Galatians 1:3-4, 5:1)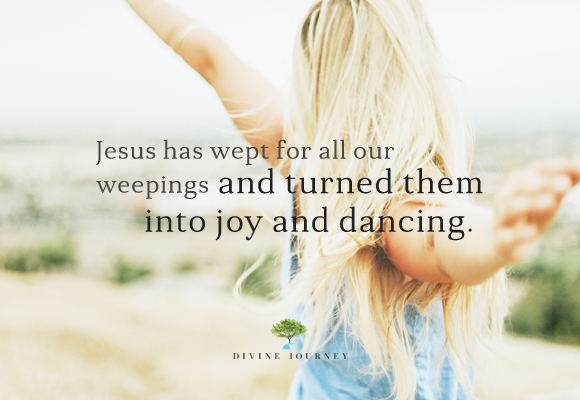 When Jesus wept … was His divine journey for us. Wow!
---
Share this post
no comments for this post