Purpose
ENCOUNTERS!
31 July, 2017
---
I would like to share a message written on a gift card for me last Christmas. This Christmas message touched a chord in my heart and led me to read this heartfelt message at least five times, yet I do not tire reading it all over again.
"Ms. Grace,
There were encounters of the first kind, encounters of the second kind, but when I met you, it was the encounter of the best kind!"
I mulled over this line… "it was the ENCOUNTER OF THE BEST KIND!"
The word encounter means "to come upon face to face "or "to experience something unexpected." This meant that Isabelle (not her real name) had an unexpected experience when she encountered me face to face.
Because I do not have any other encounters with Isabelle expect through my ministration, I deduce that her "ENCOUNTER OF THE BEST KIND" was either through my teaching, preaching, praying or prophesying. Thus, I would like to believe that what she wrote to me simply meant this….
"Ms. Grace, through you, I had experienced a divine encounter with God!"
A synonym word for encounter is "TO MEET." So another perspective of the Christmas message is….
"Ms. Grace, through you, I met God face to face!"
A well-known minister said, "The only thing you owe the world is an encounter with God… You could be the only encounter they have…." WOW! I am glad that Isabelle did not miss her encounter with God on her appointed day!
It's a great honor to be chosen by God to be His vessel to dispense His glory (love and compassion) to others. Through me, through you, others can experience the Father God's love and be transformed.
"……CHRIST IN ME, the hope of glory…." Colossians 1:27 (NKJV)
I never had the chance to ask Isabelle her divine encounter with God but as we see in the Bible, face-to-face encounters with God often look very different from each other. However, such experiences have one thing in common…THEY MAKE IT NEARLY IMPOSSIBLE FOR PEOPLE TO LIVE AS THEY DID BEFORE THEIR ENCOUNTER. DIVINE ENCOUNTERS CHANGE US!
The story of the Samaritan Woman in John 4:1-30 (please read this story) is an amazing ENCOUNTER story – it was a LOVE ENCOUNTER at the well! She encountered the love of God through Jesus and she was transformed! The love and compassion of God oozing out from Jesus freed her from guilt, condemnation, bondage to sin, lack, sadness, shame, failure, hopelessness and brokenness. Her love encounter with Jesus granted her a new identity!
"Therefore, if anyone is in Christ, he is a NEW CREATION,
old things have passed away, behold, all things have become NEW."
2 Corinthians 5:17 (NKJV)
The Samaritan woman's encounter with Jesus not only changed her, but the impact of her life in her community and surrounding city also changed.
"The woman then left her water pot, went her way into the city, and said to the
men, 'Come, see a man, who told me all things that I ever did. Could this be the
Christ?'" John 4:28-29 (NKJV)
I love the fact from the scripture above that Jesus not only forgave and restored the Samaritan woman but He also empowered her. Her past life experiences did not dictate her future nor destroy her potential as a woman. She was transformed to be a woman of great influence for God. In fact, she was the first woman evangelist recorded in the Bible. Her encounter with Jesus gave her spiritual insight and revelation to perceive Jesus as "a prophet". Similarly, our encounters with God, Jesus, and the Holy Spirit allows us to see our world from God's perspective.
If you are reading this article and you feel like you have a story similar to this unnamed Samaritan woman, I want to encourage you to encounter Jesus more. Desire His Presence. Jesus knows your Name and the every detail of your life. He knows exactly the number of hairs on your head. He knows exactly what your dreams and desires are. He knows exactly where you are and what you are feeling. Stop questioning God but rather start believing more of His Word.
"Allow your encounters with God to have more weight in your life
than your questions." - Bill Johnson
Twenty six years ago, I had a personal encounter with God. He became my Lord and Savior. Since then, I was hungry for the Word, excited for the Word, and believed in the Word. Six months or less after being born again, I attended a wake and I ended up ministering to the father of this nine-year-old boy who died. The wife was at the far end of the funeral parlor screaming and wailing, despondent over her son's death.
Why so much drama over this death? The couple had so much dreams for their very good-looking, healthy son. He was intelligent, too. He was to inherit their businesses and at such young age. They had put all their hopes on him. With the boy's death, everything died! Death swallowed up the couple's lives!
As a six month old Christian, I only had three scriptures off my head… but my encounters with God through the Word gave me the confidence and the boldness to share the Father's love for them. I enjoyed those moments of sharing Jesus! (I am not fond of going to wakes, however, I intentionally went to this wake for Jesus!)
As I prayed for the husband, the wife calmed down and the Peace of God filled the funeral parlor. The atmosphere of the funeral parlor shifted from grief to hope.
This family encountered God that evening; they allowed their encounter with God to have more weight that night than their questions. God honored what they honored and three months later the whole family became born again. Years down the road, the father became a Pastor. His encounter with God opened the way to his destiny. Glory to God!
" As the Father has sent Me, so I send you." John 20:21 (NLT)
Let us purpose in our hearts that we will be someone's ENCOUNTER OF THE BEST KIND! We were born to live in the glory of God.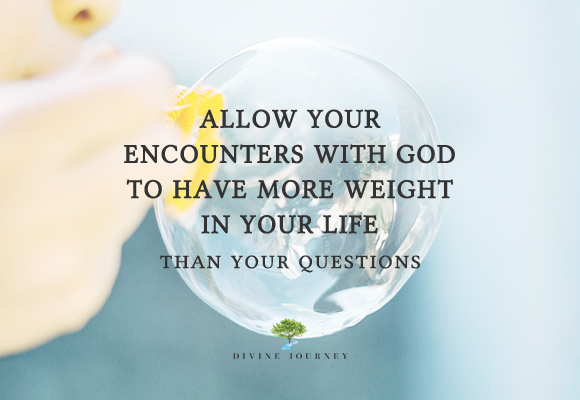 ---
Share this post
no comments for this post