Life
The Victory Before Battle
12 December, 2016
---
Imagine you are a commander in chief ready for battle. You have all your horses and chariots ready. Your spears are sharpened, your swords are tapered. Everyone with their game face on. But you find out that the enemy you are about to go up against is the strongest nation the world has ever known. They have the most advanced weapons and the most ruthless soldiers. They are known to be undefeated.
But what if, before you even begin your battle, you already know that you were going to win? What if you know everything is going to supernaturally fall into place to gain your victory?

John 16:33
I have told you all this so that you may have peace in me.
Here on earth you will have many trials and sorrows.
But take heart, because I have overcome the world.
When we work for God to earn all the victories that are beyond us, we will constantly feel overwhelmed and under-qualified. We will come back to the cycle of disappointments and exhaustion because we keep coming back to feeling like we haven't done enough. This will happen because the victories that are ahead will always be bigger than us, greater than the capacity we have and stronger than what we know we can bear. The struggles of life are real and fierce. Some days we can win from them easily, but on most days we lose.
When we understand the battle of our lives has been won, we will strive to give our best not to make sure we deliver victory, but simply to claim His already given promises for us. We do our best because we know it will all come together for our good. At times when it doesn't feel like it has a good ending, we know it is not the end.
Jesus has overcome. This is why we push through. This is why we don't stop pursuing His calling. This is what will keep us operating at the maximum level towards our God-given purposes. We do it not because we are strong enough to handle the circumstances. We do it because we know God has a plan and purpose for our lives, and this promise is unshakable and unfailing. We still have to fight, because without a fight there would be no victory. But the fight has already been won, before we even begin.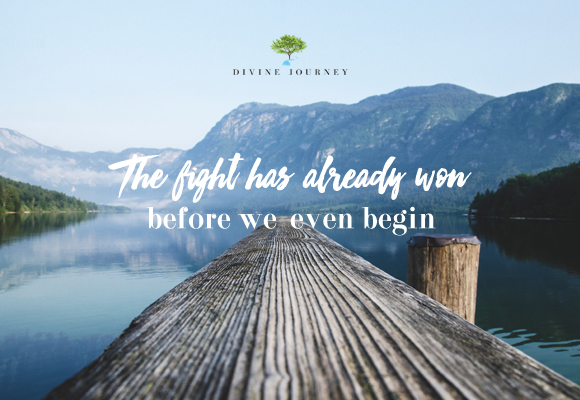 Things change when we operate from a place where victory is already given. Things change when we operate from grace already given, gift already shared and love already showered, not to earn all of them.
---
Share this post
nrds
Written on Dec 23, 2016
Very encouraging! Excited for more!