Healing
Cry Baby Cry
12 December, 2016
---
The other day my 11-year old daughter asked me a profound question "Mom, why did Jesus cry when He knew that Lazarus will be raised back to life?
John 11
When Jesus arrived at Bethany, he was told that Lazarus had already been in his grave for four days. Bethany was only a few miles down the road from Jerusalem, and many of the people had come to console Martha and Mary in their loss. When Martha got word that Jesus was coming, she went to meet him. But Mary stayed in the house.
Martha said to Jesus, "Lord, if only you had been here, my brother would not have died. But even now I know that God will give you whatever you ask."
Jesus told her, "Your brother will rise again."
"Yes," Martha said, "he will rise when everyone else rises, at the last day."
Jesus told her, "I am the resurrection and the life. Anyone who believes in me will live, even after dying. Everyone who lives in me and believes in me will never ever die. Do you believe this, Martha?"

"Yes, Lord," she told him. "I have always believed you are the Messiah, the Son of God, the one who has come into the world from God." Then she returned to Mary. She called Mary aside from the mourners and told her, "The Teacher is here and wants to see you." So Mary immediately went to him. Jesus had stayed outside the village, at the place where Martha met him. When the people who were at the house consoling Mary saw her leave so hastily, they assumed she was going to Lazarus's grave to weep. So they followed her there.
When Mary arrived and saw Jesus, she fell at his feet and said, "Lord, if only you had been here, my brother would not have died." When Jesus saw her weeping and saw the other people wailing with her, a deep anger welled up within him, and he was deeply troubled. "Where have you put him?" he asked them. They told him, "Lord, come and see."
Then Jesus wept.
We all know how the story went. Lazarus was risen from the death. Jesus knew from the beginning that Lazarus will be raised back to life. He told Marta about it. He knew it from the beginning. It was already in His mind. Yet, He still cried! Jesus cried, wept, and mourned when He saw Mary was weeping.
Growing up, I was a cry baby, a quiet child, so the way to express my feelings was mostly through tears. Then on the passing of my late husband, when I thought that my life was completely ruined, I turned into an even more cry baby. When all kinds of emotion came like a rushing wave, I cried. When the fear of tomorrow came like a flood. I cried. I wept. I wailed. I soaked my pillow in tears. Morning. Day. Night.
In public, I tried to hide my tears as I didn't want to make others uncomfortable when they see me with tears. Then it came to the point when I couldn't even contain myself and my tears any longer. I just had to cry in and out of hiding. As healing took over my grief, the painful tears slowly turned into tears of gratitude and joy. And I figured it's totally okay to be seen by others, by my close friends and families. It's okay to be raw and vulnerable. Even Jesus was found weeping.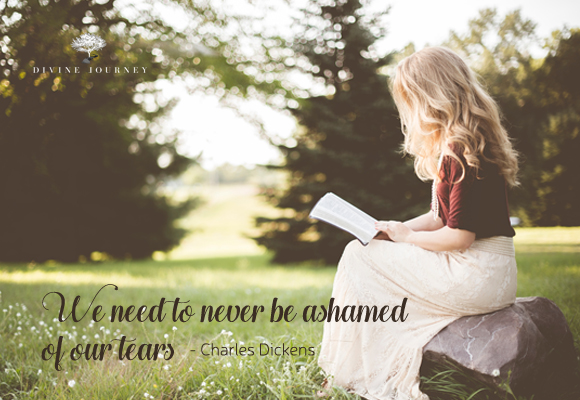 Friends, if you are in a season of tears, here is a permission for you to let your heart out and cry. Your tears matter because I believe that tears soften, clean and prepare your hearts for more. It's okay to cry and when you cry, remember that Jesus cries with you. And soon enough, your painful tears will turn into beautiful tears as the new season arrives. Your healing is on the way. You may cry but never ever give up in your pain.
You keep track of all my sorrows.
You have collected all my tears in your bottle.
You have recorded each one in your book.
Psalm 56:8
"We need to never be ashamed of our tears"
-Charles Dickens
---
Share this post
no comments for this post