Life
So I Keep Calling
12 December, 2016
---
Dry seasons are the worst.
Dry seasons are those times when you feel like God is far away. Like He is just not within your reach. It's like being in a relationship with someone, in good terms, but not knowing how get the call through. Like you miss them so much, but you just don't know how to get to them anymore. Every means of contact seem to fail. All messages unread, phone calls either they don't get through, or they go to voicemail. (Well, of course this analogy is inadequate to properly picture our relationship with God. Because He is always there and He never leaves us. But, I guess, it's one of the best analogies I can think of.)
See, as much as I'm having a hard time to understand this, but dry seasons are for real. They are not necessarily all bad through and through, because even dry seasons are used to forge us and shape us to become a lot of things. For example, let's say God wants to teach us to get serious about our devotionals and private times with Him. But yeah, dry seasons are for real, and they just suck the life out of you.
For me, dry seasons make me somewhat disoriented and dysfunctional. It messes up my clarity because at times when I feel like a lost puppy in my spiritual walk, I lost sense of where I need to go, what I need to do and what I need to become. Sometimes, I even feel like I don't know what having faith means anymore. And the crazy thing is, dry seasons for me don't usually come at the bad times. Often times it comes when life is steady. It's like that gap when you are sitting down at an amusement park waiting for the next rollercoaster ride to open. And in this gap, you just don't really know what to do. In my case, I just lose my spirit to wake up in the morning. I can't really think. I can't write. I don't feel inspired and I constantly want to be somewhere else, wherever I am. Because every place doesn't seem to get me closer to where God is and it distresses me.
But if God has promised He will never leave us, then He is always there. So, the problem isn't Him, it's just us. We are simply, maybe, too clouded with our own emotions, bad days, disappointments, the list goes on. It's like trying to call someone, but our signal jammed because we are in a place where it won't pick up reception. Or, maybe we are calling from a place that's too noisy, that we can't hear what the other end is saying. Then in this case, until we are at a place where there is good signal and it's quiet enough to hear, that is when our spirit is in tune with God and the noises of our thoughts and feelings have died down, we will be able to hear Him again.


So here's what I'm going to do, and what I think everyone that's going through a dry season should do too:
I'm going to keep calling.
I'm going to hold on to my phone and keep on hitting redial until I can finally hear Him loud and clear once more, until I find flowing water in this desert of my dry season. And I'm going to believe that in this waiting period that seems to go nowhere, my feelings play no part in the fact that God is always taking me somewhere further in His promises.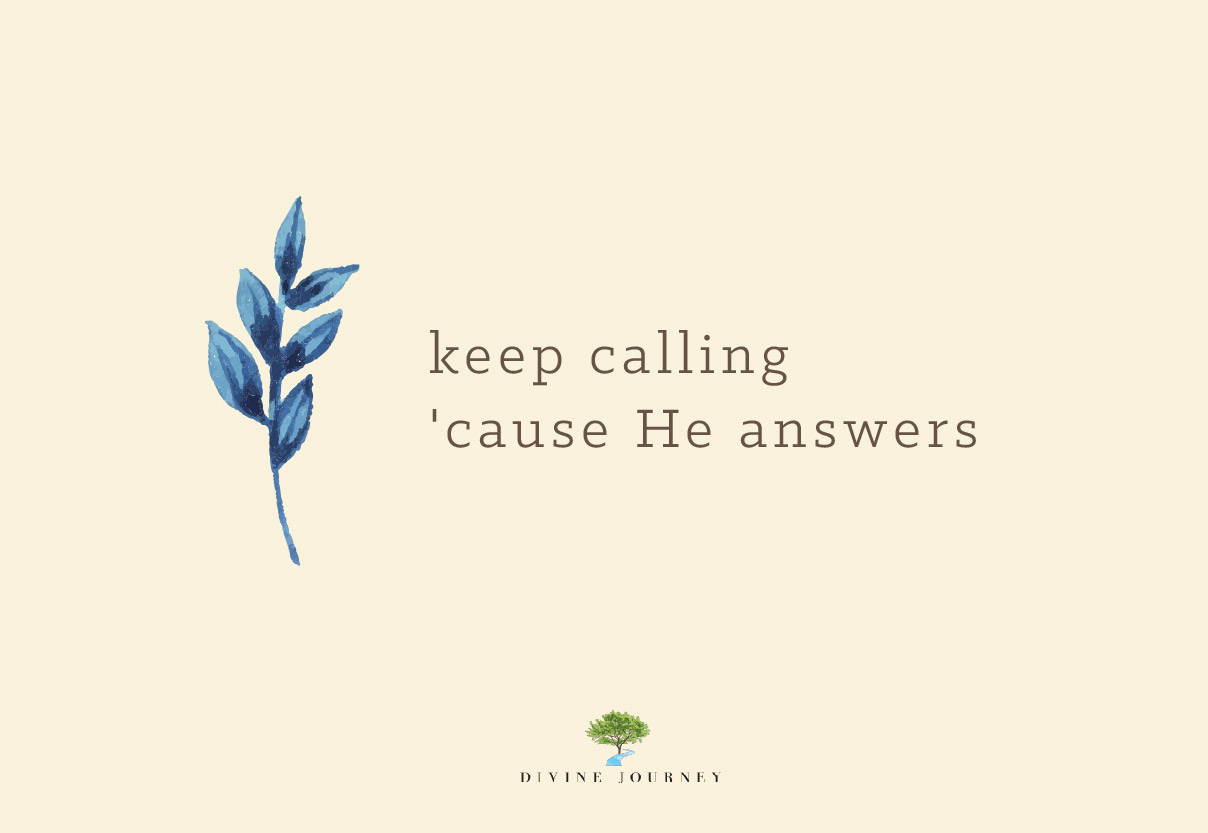 "Be strong. Take courage. Don't be intimidated. Don't give them a second thought because God, your God, is striding ahead of you. He's right there with you. He won't let you down; he won't leave you." -Deuteronomy 31:6
"When you come looking for me, you'll find me. Yes, when you get serious about finding me and want it more than anything else, I'll make sure you won't be disappointed." -Jeremiah 29:13
---
Share this post
no comments for this post